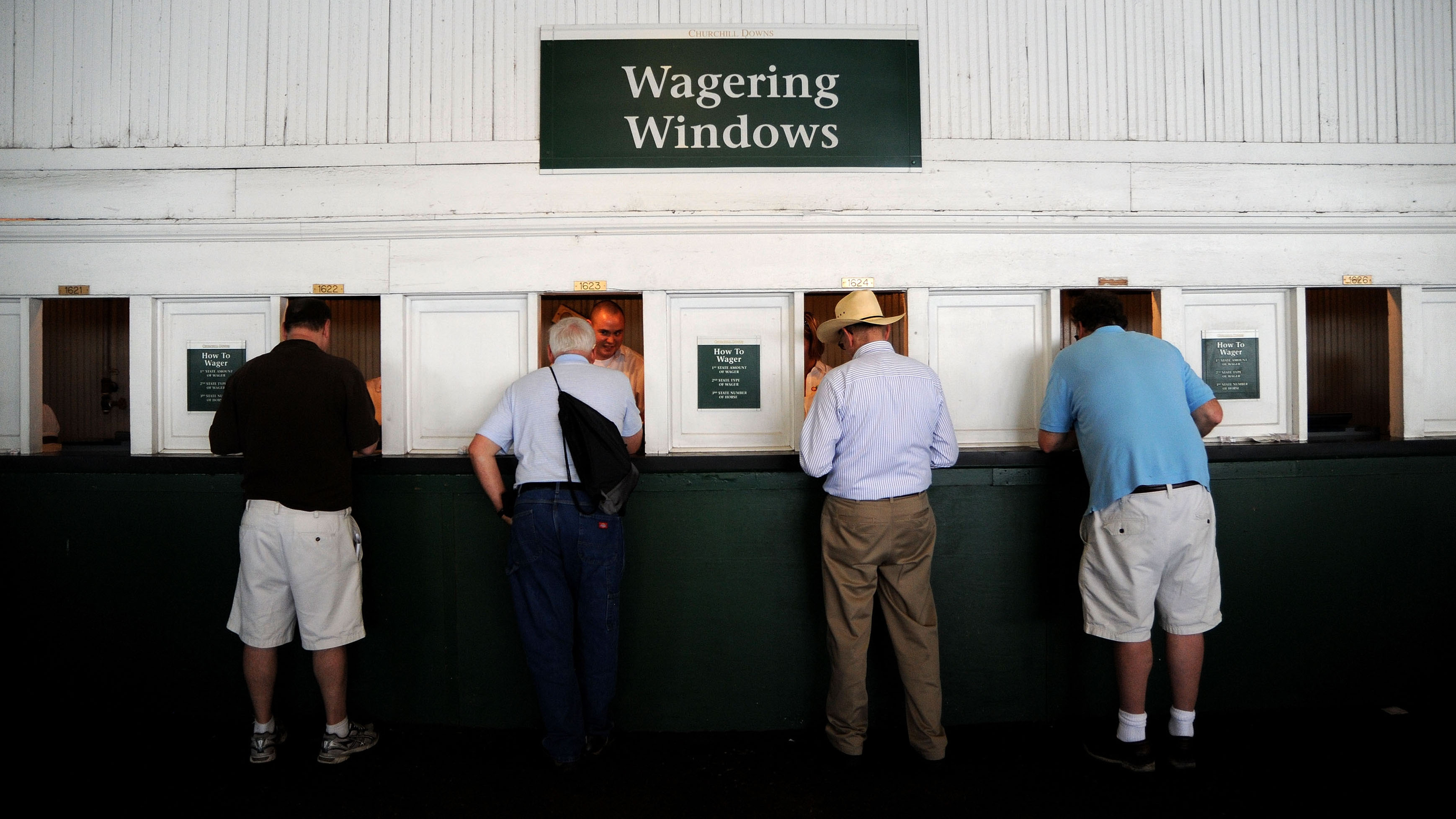 The Basics
Important Terms
First, let's get a definition of the term used for horse race betting, handicapping. Handicapping means evaluating the various factors of a horse's history, then balancing that information against the same info on horses in the same race. Simply put, it is the technical way of determining which horse will win a given race. Factors to study include pedigree, trainer, jockey, class, track, pace and speed.
Pedigree - A horse's ancestral line. If a horse's sire or dam were winners, then chances are that horse could be a winner also.
Trainer - The person responsible for a horse's development and race preparation, not to be confused with the owner, whose claim to the horse is purely financial.
Jockey - The person who rides the horse during a race. If you didn't know that already, you may want to avoid handicapping and stick to the mint juleps.
Class - The level or quality of race at which a horse is running. Most well-known races are graded, Grade 1 being the highest, Grade 3 the lowest grade. For instance, if a horse which normally runs in only graded races were to step down in class and run in a non-graded race, that horse would be a sure favorite. If a horse were stepping up in class, that horse might, though not always, be less of a favorite. Movements between class is a great way to distinguish horses in a given race.
Track - The actual place where the race is held. Often times a horse that races well on one track will struggle on another.
Pace - How a horse likes to run a race. Some horses like to take the lead early and try to hold it, others like to reserve energy and come from behind. Pace and the distance of a race go hand-in-hand.
Speed - How fast a horse usually runs. Speed horses generally take to the lead early and establish pace. Those with stamina hope to outduel speed runners by the end of the race.

The Track

While you might already have a good idea of what a track is, there are some basics to be covered which will probably answer a question or two for novices. First, there are two types of racing surfaces, dirt and turf. All Triple Crown races are raced on the dirt. Second, most tracks are one-mile ovals. For races that are longer than one-mile - the Derby is a mile and a quarter - the starting gate is lined up with the appropriate pole. The poles are placed one-eighth of a mile apart. In racing terms, one eighth of a mile is also a furlong. (A lot of horse races are six furlongs, or 3/4 of a mile, long.) So, the starting gate for the Kentucky Derby is located at the 2/8 (or 1/4) pole, which is 1/4 mile from the finish line; the horses complete one and a quarter ovals. (The numbers attributed to poles refer to their respective distance from the finish line.) The poles themselves are color coded: 1/8 poles are green and white, 1/4 poles are red and white, 1/16 poles are black and white.

Why are the poles important? Because when looking at the racing record of a particular horse, you can tell where and how in previous races the horse was running. If a horse was leading but then tired at the 1/4 pole, it ran out of steam a good quarter-mile from the finish and probably lacks stamina.

Types of Bets

OK. Now we get to the fun stuff. These are the most familiar types of wagering available at horse tracks:

Win: You win if the horse you bet on wins.
Place: You win if the horse you bet on wins or comes in second.
Show: You win if the horse you bet on wins or comes in second or third.
Across the Board (or Win/Place/Show): A bet on a horse to win, place and show. If the horse wins, the player collects three ways; if second, two ways; and if third, one way, losing the win and place bets.

According to these definitions, it would seem to make the most sense to make show bets in order to guarantee a payoff. A show bet may indeed increase the chance of a payoff, but it will also lower your payoff. Let's look at the following result:

1998 Kentucky Derby Results:
Win
Place
Show
Exotics
2-Real Quiet
$18.80
$8.80
$5.80
$2 Exacta 2-12 — $291.80
12-Victory Gallop
$13.00
$7.60
$2 Trifecta 2-12-7– $1,221.00
7-Indian Charlie
$4.20
$1 Superfecta 2-12-7-3– $3,007.40




Ignore the information regarding the exacta, trifecta and superfacta for the moment. Had you bet $2 to win on Real Quiet, you would have won $18.80 (a profit of $16.80). Had you put $2 to show on Real Quiet your payoff would have been $5.80. However, had you bet $2 to win on Victory Gallop, you would have lost your bet. A $2 bet to place on Victory Gallop would pay you $13.00, but a $2 bet to place on Indian Charlie returns nothing. Had you bet across the board on Real Quiet you would have won $30.40 (18.80 + 8.80 + 5.80). An across the board bet on Indian Charlie would pay you only $4.20, which would mean a net loss of $1.20 because the minimum across the board bet is $6 ($2 each for win, place and show). Got it?

Now the other bets. Here are some definitions from the Daily Racing Form:

Exacta: A wager in which the first two finishers in a race, in exact order of finish, must be picked.
Trifecta: A wager picking the first three finishers in exact order.
Superfecta: You are a winner if your selected horses come in first, second, third and fourth in exact order of finish in a race.

Most beginners usually stay away from trifecta and superfecta bets simply because they aren't very simple. On the other hand, exactas are a big favorite. Exacta bets allow you to choose a group of horses, rather than just one, and place bets on all of them. Say there are three horses in a race you like, but you cannot choose between them. Pick who you think is the best of the three, then match that horse with the other two in an exacta or exacta box (an exacta box protects you from picking the top two finishers but losing the bet because one beat the other by a nose). Exactas are a great way to get started on handicapping, and offer more of a challenge, and a higher payoff, than simple win bets.

There are also multi-race bets, the Pick 3, Pick 4 and Pick 6. These bets payoff when you pick the winners of each of 3, 4 or 6 races in a row. Again, most beginners stay away form these bets due to the difficulty of picking the winner of one race, let alone 3 or more in a row. The payoffs however can be very large.

Betting at horse tracks is pari-mutuel betting, which means you are betting against other bettors, not house-made odds like at a sports book at a casino. Odds on horses are determined by the amount of money wagered on a particular horse; if no one bets on a horse, his odds will be higher (like 50-1) but there will be a higher payoff - therefore the lure of betting on the longshot.

Comparing the Field

The greatest tool used in handicapping are the entries published in the Past Performances. If you want more information on how to read these forms, head to this handy guide which explains the Ultimate Past Peformances program used at the Derby Party in great detail. Instead of explaining those details here, we will focus on the ideas upon which the information in the Past Performances is predicated.

Condition

One factor to consider is the condition of a horse. Is the horse running "in form" or "off form"? Daily Racing Form writer Brad Free sums it up this way: "Determining condition can be a simple matter of evaluating a horse's recent races. Has the horse been finishing in the top half of the field? If he is a front-runner, has he been showing speed? If he is a late runner, has he been gaining ground on the leaders"? In other words, has a horse performed well as of late? Condition can still be a tricky consideration, however, especially for young horses like the 3-year olds who race in the Triple Crown. More often than not, as a matter of fact, the Derby champion has lost his last race before the Derby. Could it be that horses that win Derby prep races are burnt out by the time they reach Churchill Downs? Or have the races they lost actually been close or to stiff competition? Still, although the condition factor can be a bit murky leading up to Derby Day, it is safe to say that a horse who has not shown any promise in his prep races will not have a "career" day and come from nowhere to win the Derby. If a horse has not been competitve in the prep races, forget about it.

Class

Again, a quote from DRF writer Brad Free: "Class is the next point of evaluation - is the horse running at a level where he previously has been competitive? Or, has he recently improved, enough to take his game to a higher level? Class is closely linked to current condition, and sharp horses frequently move up the ladder." In all honesty, horses running in Triple Crown races are in a class amongst themselves. You can't go higher in class than the Kentucky Derby. So it is fair to say that Derby contenders have already reached the top of the ladder and that the class principle in terms of handicapping applies more to the average race rather than the top races of the Triple Crown. Still, out of a field of about 20 horses, it is possible to use class as a way of cutting that field in half, or even down to a third, of top contenders. Once you've selected an elite group of horses you think are distinct from the rest of the field, you've taken the first step of handicapping a race like the Derby. After all, you don't go from 20 horses entered in a race straight down to one; you've got to meddle through the field a bit more wisely than that. It's a similar idea to condition: if a horse hasn't been competitive with any of the other Derby horses in the preps, he is not going to magically win the Derby.

Speed

The most popular standard of speed comparisons are Speed Figures, which note how fast a horse can run and take into account the "fluctuating speed of a racing strip". To read more about these figures, check out the handy guide. In essence, figures earned under similar circumstance as the race which you are handicapping will be the ones to use. What type of history does the horse have in terms of racing? Has he run longer or shorter races, around one turn or two, and how has he performed under varying circumstances? As you might expect, and as briefly alluded to earlier, speed is the brother of pace. Since the Derby is a relatively long race, speed horses generally do not fair well in the Derby. Those with pace and that can last the whole mile-and-a-quarter distance might have an advantage, although even if a horse with lots of stamina must have some speed. If he falls too far behind the speed horses, generally a race's pace-setter, he may have too far to go to catch up at the end.

Pace

Brad Free introduces an interesting theory about pace, and used two past Kentucky Derbies as examples. His basic theory is that in a race filled with horses with similar styles, horses with the opposite style may hold an advantage. In the 1996 Kentucky Derby there were several speed horses, horses that jumped to the lead early like Honour and Glory, Matty G and Unbridled's Song. These speed runners burnt each other out, tiring at the stretch and leaving room for late-closers Grindstone, Cavonnier and Prince of Thieves. By contrast, the 1988 Kentucky Derby was filled with closers, those who come off the pace. But while all the closers were waiting to make their move, speed horse Winning Colors took the early lead and held it. Her speed was too much for the closers who were waiting for her to fade. In Mr. Free's words, the theory to take note of is this: "Generally, the more speed racers there are in a race, the greater are a closer's chance to win. Conversely, fewer front-runners mean those who do have speed may hold an edge".

Analyzing these four factors together should help you create a a solid picture of how a race will be run, and hopefully, which horses will come in the money.